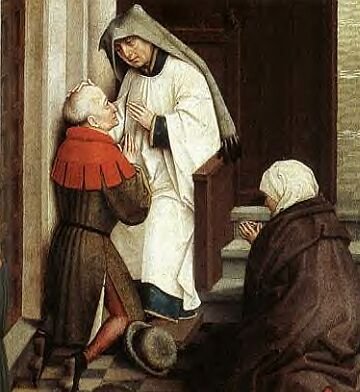 We should all go to confession before Easter. Our tradition does not teach that Confession is necessary, and St. Augustine is often cited as having said about the sacrament of Confession something like "All may, some ought, none must." For my part, I would ammend it to "All may, All ought, none must." "None must," because God has promised forgiveness of sins to "all who truly repent and turn unto Him" in penitence. But have you TRULY repented? Why not be sure? Here's what the BCP says:
"And if, in your preparation, you need help and counsel [who doesn't?], then go and open your grief to a discreet and understanding priest, and confess your sins, that you may receive the benefit of absolution, and spiritual counsel and advice; to the removal of scruple and doubt, the assurance of pardon, and the strengthening of your faith."
Why not use the means ordained by our Lord Himself for the remission of sins, confession to one of the ministers of his Gospel in succession from the Apostles (John 20.23)? The Lord left to his Church assurances of the application of the merits of his Cross and Passion to the particular lives of those who believe in Him and are united to His Body through Baptism. One of these is the sacrament of Confession.
I recently bought a copy of
The Manual, Adapted for General Use
. Here are some helpful hints from it for when you decide to go to Confession:
Repentance has three parts; 1, Sorrow; 2, Confession; 3, Amendment.
1. Sorrow, or a real grief at having offended God; not the mere fear of hell, but a sorrow with the love of God in it, a sorrow at having returned God's mercies so ungratefully, and brought shame upon His holy Name, when we ought to have been ever praising Him and giving Him glory.
Thoughts to Produce Godly Sorrow.
1. That God is our Father by creation and preservation, having given us everything from our youth up until now.
2. That He is our Father also by adoption, having made us His own children again by Baptism.
3. That He gave His only Son to die for us.
4. That God the Son became man for us, was crucified, died, and was buried.
5. That He has prepared Heaven for us.
6. That all our sins went to cross [out] and undo the work of His sufferings; the sins of our hands were against the pirercing of His hands; the sins of our tongues went to undo the thirst of His tongue upon the Cross; our evil thoughts pierced His brow again with thorns.
7. That we are His members [the parts of His Body], and so have brought disgrace upon our Head.
8. That we are temples of the Holy Ghost, Whom we have grieved and resisted.
9. That God has spared us again and again, and called us again and again, but we would not hear.
10. That we have set an ill example to others, and injured the Church.
11. That we have filled our souls with sinful habits, and made it harder than ever to serve God.
12. That we do not love God as we might have done, but that our sins come in between us and Him and spoil our prayers and meditations, and make us fly from the thought of Him, instead of loving his presence.
O Jesu, would that for love of Thee I had never so sinned against Thee.
O God, the King of all, give unto Thy servant true compunction [regret], the pardon of my sins, the amendment of my life, who am deeply sunk in bodily affections, estranged from Thee, and without hope but in Thy saving mercies and great goodness, Almighty Jesus, Saviour and Defender. Amen.