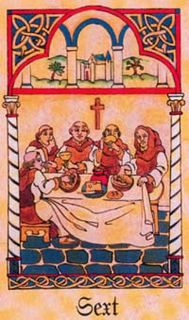 The Sixth Hour
O God, to help me make good speed.
Lord, make haste to succour me.
Glory be to the Father. &c.
As it was in the beginning, and is now: and ever shall be. &c. Amen.
The Hymn

O creator most benign,
To us alway be looking.
Raise us from all noisome sleep,
Wherein we be drowned deep.
Christ, of yhy mercifulness
Pardon all our sinfulness.
Thee to praise and mangify,
Of night we leave the sluggardy.
Of the sin that we have done
We make our confession:
Weeping we do pray to thee,
Pardon our iniquity. Amen.
Ad te levavi oculos meos. Psealm .cxvii.
[cxii]
A prayer to be delivered from the scorns of the wicked.
I have lift up mine eyes to thee which dwellest in heaven.
Behold, even like as the eyes of the servants wait at their master's hands;
As the eyes of the handmaid be upon her mistress: even so be our eyes upon our Lord God until he have mercy on us.
Have mercy on us, O Lord, have mercy on us, for we be had in much contempt.
For our soul is very full, being scorned of the rich, and desipised of the proud.
Glory be to the Father, and ot the Son, and to the Holy Ghost.
As it was in the beginning, and is now: and ever shall be, world without end. Amen.
The Anthem

Blessed are the merciful, for they shall get mercy.
Blessed are the clean in heart, for they shall see God.
The Versicle. Lord, hear my prayer.
The Answer. And let my cry come to thee.
Let us pray.

Lord Jesu Christ, whose property is ever to be merciful, which art alway pure and clean without spot of sin: grant us the grace to follow thee in mercifulness toward our neighbours, and always to bear a pure heart and a clean conscience toward thee, that we may after this life see thee in thy everlasting glory: Which livest and reignest world withgout end. Amen.
(From
Private Prayers, Put Forth by Authority, During the Reign of Queen Elizabeth
)